Background
In 2010, Jonas acquired Gladstone plc, which was a sizable acquisition in the United Kingdom (UK) and became a platform for acquiring additional businesses, but more importantly, developing talent within the region. Gladstone was formed of two divisions:  a market leading leisure management and health club software business, and a smaller education focused business. After the Gladstone acquisition, we expanded further into health and leisure by opening a UK satellite of one of our US fitness businesses, EZ Facility, and then buying Stuart Dyson & Associates (SDA), XN Leisure, Cap2, The Retention People, Nutrition Complete, Retention Management, and EZ Runner Systems.
In addition to the core health & leisure business at Gladstone, the small Education division provided niche software for cashless catering, access control and identity management within the primary and secondary schools in England and Wales and for some specialty schools outside the UK. Education was a new vertical for us at Jonas and we began to research the education market in the UK. We learned that the leader in the England and Wales cashless catering market was a company called Cunninghams, but they were a distributor of a Scottish company called Cash Registers Buccleuch (CRB) who had the majority of the market in Scotland.
Our research showed that there was an ecosystem within education outside of the core MIS system, and it included cashless school meals, but also solutions to fund and account for trips, charity, books and uniforms. In 2012, we acquired Tucasi, a primary and secondary provider of financial tracking tools and provider of payments and communications for parents on behalf of their children. We then bought Easytrace/ami Education Solutions, followed up by CRB in 2013. In 2014, once we had acquired CRB, we pursue and successfully acquired Cunningham Cash Register. In 2018, we added Mintclass to the group, a provider of education related tools for seat planning and behaviour management.
The Cunninghams acquisition in 2014 also led us to a new vertical, Retail electronic Point of Sale, as Cunninghams had a Retail division as well. We subsequently acquired The ePOS Group, Fashion Master, MCR Systems and Uniware, all providers ePOS systems, some in food, some in fashion & gifts, and some in higher education and corporate cashless catering.
Here is a visual of what the progression in these verticals has looked like:

These stories emphasize our "Software for Life" motto at Jonas Software. We take a long-term view of running our companies.
Spotlight on CRB & Cunninghams in our Education Vertical
CRB & Cunninghams, now CRB Cunninghams, is our largest brand in the UK Education market. They are the clear leader of cashless catering solutions to the UK education market with a focus on primary and secondary schools. Their solutions are used in over 3,000+ schools across the UK to help them run efficient and effective meal and nutritional programs as well as aid in the payment of those items to try to eliminate cash from the schools and the troubles cash can cause. For years, schools all over the UK have been able to provide lunch and other important services seamlessly with the help of the software solutions.  Additionally, CRB Cunninghams have expanded into ID Management, Payment Solutions, and Grab and Go systems.
Why Sell to Jonas?
Jonas' strategy is to acquire, manage and build industry specific software solutions. Given our entrance into the Education market with Gladstone Education and the research we did to understand the market they served, we learned that CRB and Cunninghams were the market leaders in their niche. Strategically, there was a necessity to have CRB join the Jonas Software family first, as they were the developer of the software, and Cunninghams their distributor, although Cunninghams was more than double the size of CRB.
CRB's achievements over the years, along with their tight-knit family history caught the attention of Jonas Software, and its Group CEO, Scott Saklad. We approached David Swanston, CRB's Managing Director, about the possibility of an acquisition. We spent time learning about the business, its history and shareholders, and what they felt was important for the future of the business. In 2013, Jonas acquired CRB and then Cunninghams in 2014.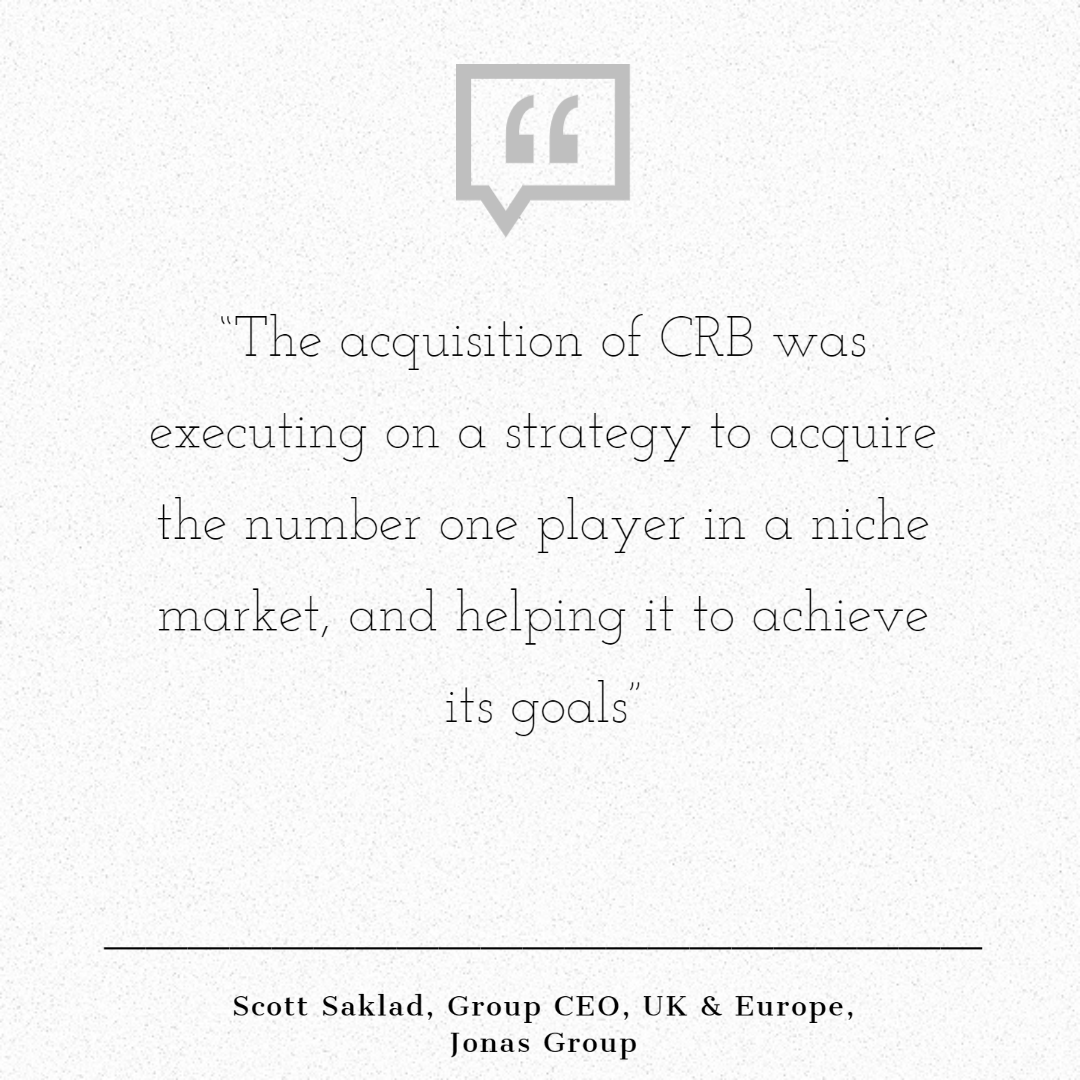 Post-Acquisition Reflections
We spoke with David Swanston, who is still the managing director of CRB Cunninghams today. Here are a few of his comments on joining the Jonas family via acquisition: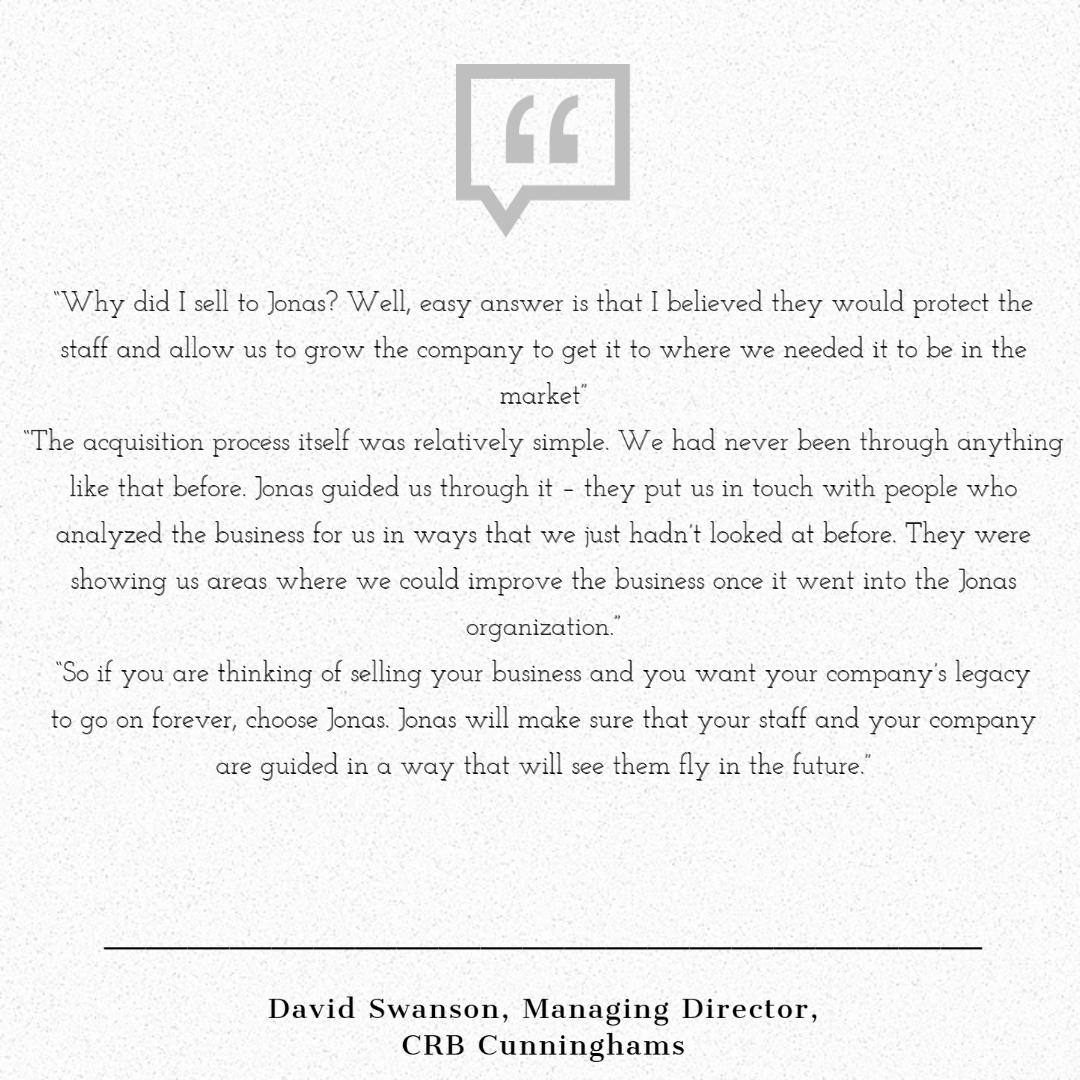 Think Jonas would be a great permanent home for your software business? Please reach out to learn more.