CORA Group is a subsidiary of Jonas Software.
In their latest 'employee spotlight' feature, they sat down with Amalan Loganathan, Executive Vice President, Finance at CORA Group.
In the interview they discuss how his previous position as Director of Finance within the group and his last 11 years with Jonas helped prepare Amalan for the promotion.
How Has Amalan's Experience and Background Contributed to his Success in CORA?
With his undergraduate degree in business from the University of Toronto, coupled with his experience at KPMG and his Chartered Accountant designation, Amalan has established a solid foundation in the realm of accounting and finance. After gaining a comprehensive understanding of the various functional areas of a software business, his proficiency in translating data and metrics into operational information has been crucial to CORA's success.
What Led Amalan to Success and How Did He Achieve His Latest Promotion?
As Amalan began to understand the Constellation model, he realized there was considerable amount of growth opportunity at CORA. Taking on new challenges outside of his role has allowed him to gain valuable experience and positioned him to take on a larger role within CORA.
"Working in a variety of different roles allowed me to understand the needs/challenges faced by all areas of a finance group from transactional teams to the business facing finance teams and everything in between."
He credits another factor of his success to the mentorship that he has received and the leadership that he has been able to observe.
"From my first day here, I have worked closely with Matt Otchet, CEO, CORA. I have been able to learn and watch as he has grown CORA and applied some of those lessons to my own role. I have been impressed with his ability to connect with people and foster career growth within his team. As my Finance responsibilities have evolved, I have been fortunate to work closely with Jeff Mackinnon, Jonas Software CFO. He has a tremendous amount of experience in leading a Finance group. I have been grateful that he has been willing to share that knowledge and mentor me along my journey."
Read More of Amalan's Interview on CORA Group's site. 
View Amalan's LinkedIn profile here.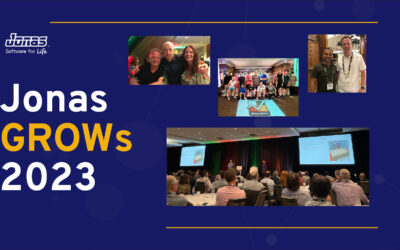 That's a wrap on our #JonasGROWs 2023 event! Thank you to everyone that helped put this conference together and thank you to all of the senior...