Jonas Software acquires, manages, and builds industry-specific software companies globally. Since 2003, we have acquired more than 130 businesses in over 40+ vertical markets.
There are many vertical market software companies out there and plenty of firms (private equity and venture capital firms) that want to acquire them. But when it comes to your software business, you want to know how this acquirer will treat your company now and forever.
So, what makes us a different type of acquirer? It's easy – we keep things simple using the Jonas ABC's.
Autonomy
Buy & Hold Forever
Culture of Sharing Best Practices
Autonomy
At Jonas, we do not seek to take over the day-to-day operations of your business. We know a key success factor in vertical market software is focus – the people in charge of the businesses we acquire have specific expertise in their industries as well as customers and employee relationships that we want to preserve.
You and your vision made your business great, and our decentralized structure empowers you to make the best decisions for the business post-acquisition. After you sell your business to Jonas, it should still feel like you own it.
"One of Jonas' key success factors is autonomy and decentralization. Since selling my software company to Jonas in 2012, I've continued to run my business independently while being able to tap into the knowledge and best practices from other Jonas companies."
Buy & Hold Forever
Jonas has never sold a business it has acquired.
Never selling the companies we buy is a unique model amongst the other buyers that we compete against. Many who purchase software companies do so with the intention of "re-selling" or "exiting" at a profit in the following years. Short-term decisions are prioritized by these acquirers at the expense of long-term relationships with employees and clients.
We never consider selling a business. When we are looking to acquire a company, our decisions are based on establishing successful, long-lasting software enterprises. As perpetual owners, we care deeply about the long-term health of our employees and customers. This is our Software for Life promise – selling to Jonas means you have found a permanent home.
"The Jonas family of companies was a great permanent home for our family business. It was clear from the beginning that Jonas shares our belief in taking great care of our employees and customers. They stand behind their 'Software for Life' promise."
Culture of Sharing Best Practices
When your business is acquired by Jonas, you are given the autonomy to operate it how you see fit. You also have the support of a large organization as well as access to other like-minded software business executives who frequently encounter similar challenges and questions. As owners of over 130 niche software companies in many different countries and verticals, we have some common metrics and financial guidelines for our businesses that allow us to benchmark performance.
Each year, Jonas hosts a number of in-person gatherings that bring together employees from hundreds of companies around the world to exchange knowledge and best practices.
In addition to the formal events, there are many emails sent around asking if other businesses have encountered certain situations, and plenty of people are willing to sit down and share best practices that have worked for them. The sentence, "You should talk to X person at Y company" comes up frequently at Jonas.
"Jonas is a company with vast expertise and knowledge… One of the main benefits of Jonas's ownership is their playbook on how to run and grow a successful software business and they've certainly brought that to our company."
Contact Us
If a permanent home for your software business is what you're looking for, then you've found it with Jonas. We are a large network of software industry executives that help one another succeed and keep your Software for Life. If you're interested in learning more about our acquisition philosophy, feel free to reach out to our M&A team leaders: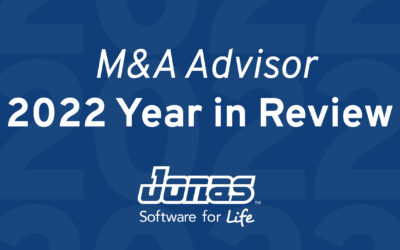 Jonas Software acquired 16 innovative companies in 2022. For a detailed overview of our 2022 acquisitions, read the 2022 Year in Review...