2020 for Jonas Software was challenging for many reasons. The year began business-as-usual for the first couple of months, then things quickly took a turn for the unusual. Things happened so quickly in March and April that it felt like years have passed.
Employees were in constant communication with customers ensuring that everyone was updated with the current situation. A day in the office rapidly changed overnight into remote work-from-home. In-person meetings have become separated by a computer screen and webcam. These were only a few drastic changes over the course of the year. "You're on mute" might be the most common phrase across Jonas Software in 2020.
A life that we had called normal had now become multiple short splints of lockdowns and re-openings. It was a roller coaster year, to say the least.
Despite a volatile year, our strategy at Jonas Software has not changed. We continue to take a long-term approach to our business thinking, remaining interested and committed to doing acquisitions in the short and long term. In 2020, 9 additional companies joined Jonas:
Six were in North America, two in the United Kingdom and one in Australia.
Four were in existing verticals and five were in new verticals, including Medical Technology, Relocation Management, Long Term Care, Loyalty and Emergency Services.
In late 2020, we passed a special milestone of 100 acquisitions since our inception with RewardOps joining Jonas Software.
Here are the 9 additional companies who joined the Jonas family in 2020: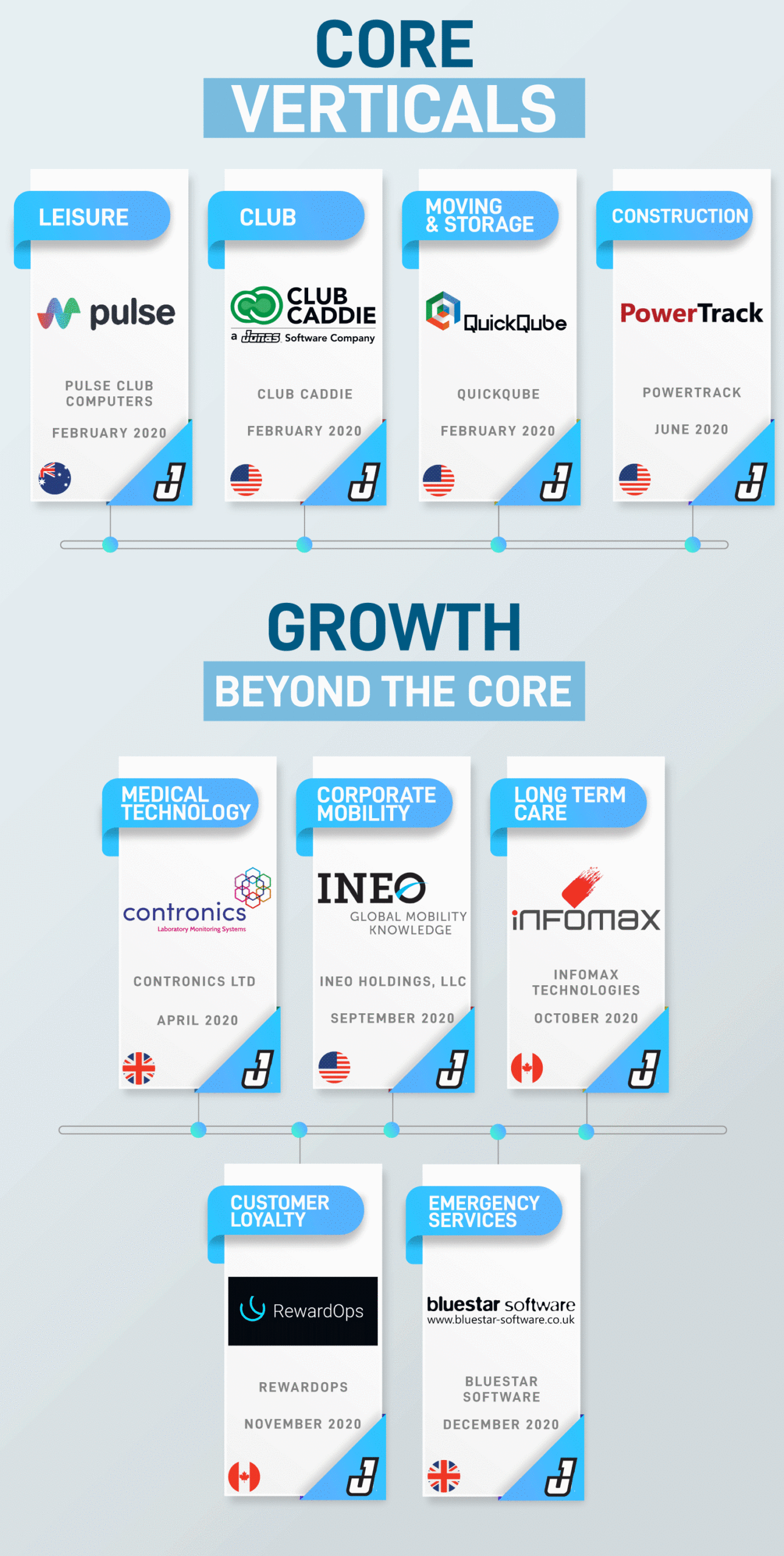 Let's profile a few of the business in more detail here:
Pulse Club: Expanding an Existing Vertical
Acquisition Date: February 2020
Vertical Market: Club / Leisure
Functionality: Comprehensive club software for golf clubs, bowling clubs, sports clubs, licensed clubs, hotels and function industries.
Headquarters: Newcastle, Australia
Why Jonas: "Jonas Software has a strong portfolio of market leaders across many industries, and I'm delighted to see Pulse Club taking its place amongst them as they continue to expand their presence in the golf and club vertical. In the hands of Jonas, there will be an increased focus on product and development with many great new and exciting opportunities ahead for the business." ~ Mike Hanlon, Founder of Pulse Club
Contronics: Entering the Medical Technology Vertical
Acquisition Date: April, 2020
Vertical Market: Medical Technology
Functionality: Contronics is a leading provider of laboratory monitoring systems, calibration and temperature mapping services to NHS, healthcare and life science organizations.
Headquarters: Chesire, United Kingdom
Why Jonas: "We are delighted to have joined Jonas Software. Their long-term vision and 'buy and hold forever' strategy resonates with us and is a great fit for our long term clients and employees. Jonas has a wealth of experience and success operating software companies around the globe and this transaction will help guide the company into its next chapter, offering our clients increased stability as a market-leading technology platform." ~ Paul Flood, General Manager of Contronics
Ineo: Entering the Corporate Mobility Industry
Acquisition Date: September 2020
Vertical Market: Corporate Mobility
Functionality: Ineo offers comprehensive global mobility management software, outsourced mobility financial management, and specialized mobility tax services to Relocation Management Companies (RMCs) and Corporations.
Headquarters: Colorado, United States
Why Jonas: "Ineo has always been the industry's most trusted mobility technology and tax resource. Now we are starting a new journey as part of Jonas where we will have access to other like-minded businesses to learn from and share best practices. Moreover, we have the unique opportunity to run the business autonomously enabling us to stay on course with our goal of being the world's foremost provider of Mobility technology. Jonas truly understands the dynamic needs of our customers, the industry and our team. We look forward to working with them to build upon our success." ~ David Santora, CEO of Ineo Mobility
---
Global M&A Leaders
Since 2003, Jonas Software has completed over 100 acquisitions in over 30 verticals. We offer autonomy and decentralized decision making, a buy-and-hold forever promise (we never sell our businesses), and a culture of sharing best practices. We are actively looking to have a dialogue with vertical market software leaders and M&A brokers. If you own a vertical market software business or work with clients who do, our M&A professionals would welcome the chance to connect with you.